J&S Telecoms Singapore & Malaysia offer the best  technology, interactivity and connectivity  for hotels. Be impress with our hospitality TV platform that helps increase communication, staff accountability, data analytic on guest behaviour and provide the best guest experience, increase your hospitality  revenue.
Schedule A Demo
J&S – your Partner for your daily challenges
✓ Worldwide solutions & services – Hospitality TVS, Digital Signage, Pro AV & System integrations.
✓ Provider of all products, systems & services in the chain
✓ Certified according to the standards in various grounds
✓ Partner with hospitality businesses globally
✓ Key player in the hotel TV industry
Hotel TV Systems are raising their game
With the rapid changes in media consumption, many hotels consider combining Internet and TV services, while at the same time hotel guests expect high image quality. Our products ensure the highest possible image quality, and can easily be integrated with an interactive TV system at any time. This way, hotels may change their strategy to a consistent IPTV supply and combine these services with attractive features, such as local hotel channels in HD & 4K.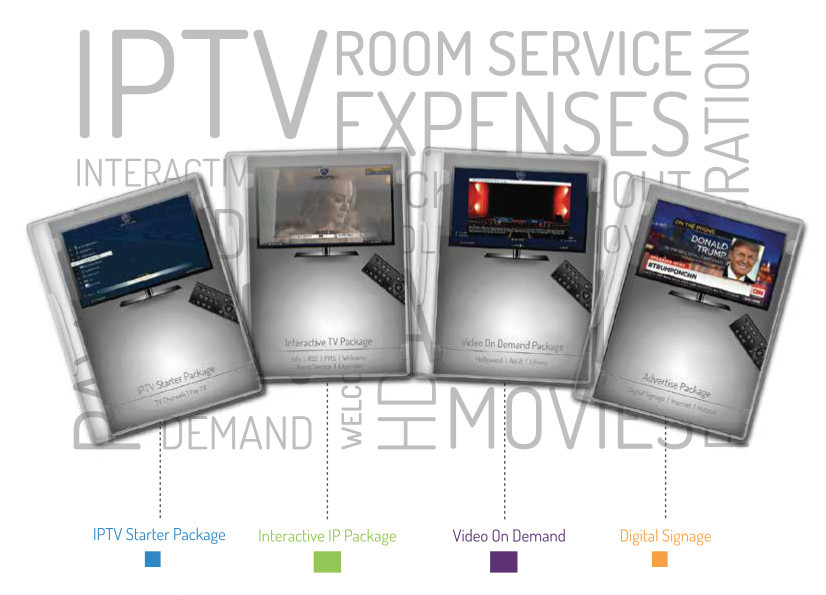 Low maintenance solution to provide a high quality TV experience
We provide the technology and the support needed to provide your guests with a first-rate television experience. As an international leader in video solutions we can supply high-quality cable, satellite, terrestrial and Internet streaming solutions for your hotel rooms, and give your guests access to entertaining TV programs through multiple channels. It does not matter whether you are planning to set up a headend solution for analog TV, digital TV or OTT – the system can be configured for your specific needs.

What Can a Solution Look Like?
All-IP concept provides the hotel with TV programs of the highest possible image quality in all of their hotel rooms. What is more, this solution is flexible enough for all possible future adaptations and applications. The IPTV streaming is connected to all TV sets of the hotel through the network, and the streamed TV programs can be viewed on all TV screens.